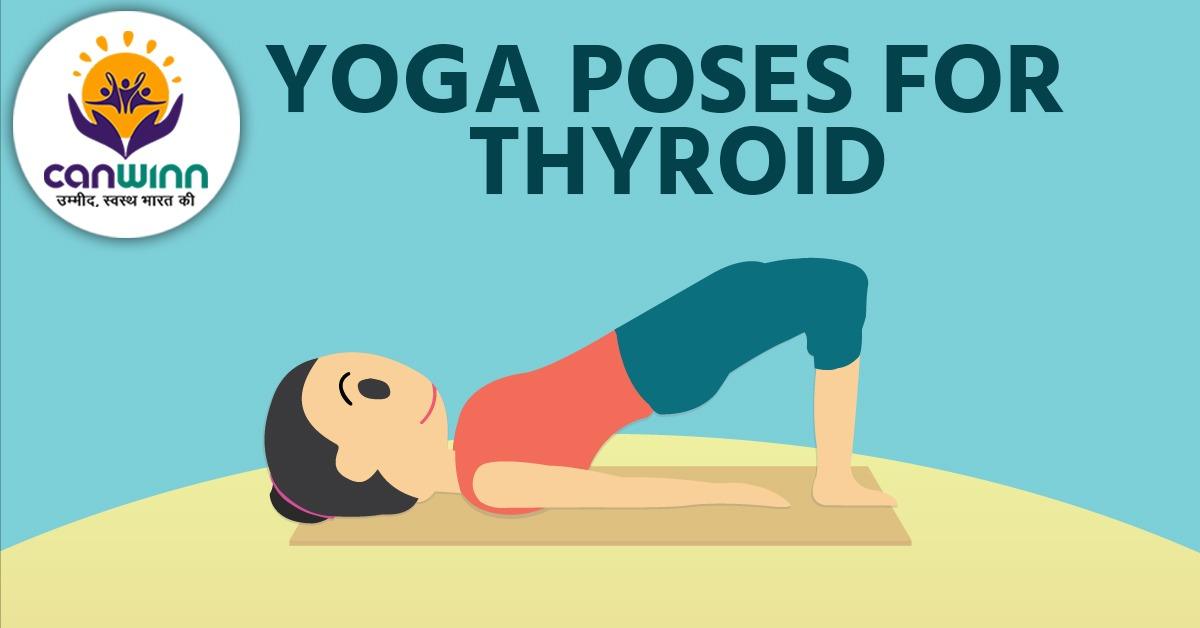 The thyroid is a disease that follows a swelling in the neck called a goiter. This medical condition affects the functioning of thyroid glands. However, you must consult your physician before starting yoga poses for thyroid. Canwinn Foundation will discuss some of the yoga poses that will benefit you if you are suffering from this thyroid disease.
Types of thyroid
Mainly there are two kinds of thyroid- Hypothyroidism and Hyperthyroidism.
Hypothyroidism: this condition occurs when you are lacking in enough thyroid hormones.
Hyperthyroidism: on the other hand, if you are having too much thyroid hormones you will suffer from hyperthyroidism.
Symptoms of thyroid
fatigue
low energy
weight gain or loss
inability to tolerate the cold
slow or very fast heart rate
dry skin
And constipation or diarrhea
You must first know what kind of thyroid you are having before starting yoga. However, the yoga tips we are going to share are beneficial for both types of the thyroid.
Yoga Poses For thyroid
1. Sarvangasana (Shoulder Stand Pose)
Shoulder stand pose is best to stimulate thyroid glands and control thyroxin. This is a kind of inverted pose that helps in mitigating thyroid. In Sarvangasana, the blood flows from the legs to the head region.
2. Halasana (Plough Pose)
Yoga pose for thyroid plough pose provides compression to the neck. Therefore this pose helps to stimulate the abdominal and thyroid glands. In addition, halasana calms your mind and helps reduce stress and fatigue. Halasan is considered to be the miraculous pose that reduces blood pressure.
3. Matsyasana (Fish Pose)
Fish pose, as its name implies resembles a form of fish. Matsyasana is beneficial for stretching your neck and stimulating thyroid glands. Fish pose very gently heals the problems caused by thyroid, decreases the stiffness of muscles and joints, and lowers stress levels. In addition, Matsyasana relaxes your body and prevents mood swings.
4. Setubandhasana (Bridge Pose)
Not all can perform Bridge Pose but those who can, they will be able to stretch the neck and activate the thyroid glands. Also, Setubandhasana helps in calming the brain, reducing anxiety, and improving the digestion system.
5. Bhujangasana (Cobra Pose)
Cobra Pose incorporates a lot of compressing and stretching that eventually regulates the thyroid glands. Bhujangasana is meant to improve blood circulation and the flexibility of the upper and middle back. Also, it benefits in:
strengthening the entire back and shoulders, toning the abdomen
expanding the chest and
reducing stress and fatigue
6. Sirshasana (Headstand Pose)
The most excellent yoga posture, Sirshasana directly manages the thyroid glands. This pose helps to balance metabolic functions. In addition, you can activate wakefulness and alertness in the body by doing headstand pose. Sirshasana is also known as the king of all yoga asanas.
Final words
As Canwinn Foundation has been sharing beneficial things to aid your diseases, it is your duty to implement them in your life. This NGO concerns on your health issues and provides many services to proffer benefits to the society on a large scale.
However, not every disease can be cured with yoga, exercises, home remedies, ayurvedic remedies, etc, you can always consult your doctor for the proper treatment. The health tips have been shared with you so that you can prevent many of the other health conditions from the occurrence. These yoga tips and other health tips will surely benefit you in one way or another. You can count on us.
Moreover, Canwinn has been providing free home delivery of online medicines with a 15 percent discount, so if you are in need of any prescribed medication, just approach us.
We will continue to share everything that can be beneficial for your health and we will also spread awareness so you can prevent yourself on a priority.