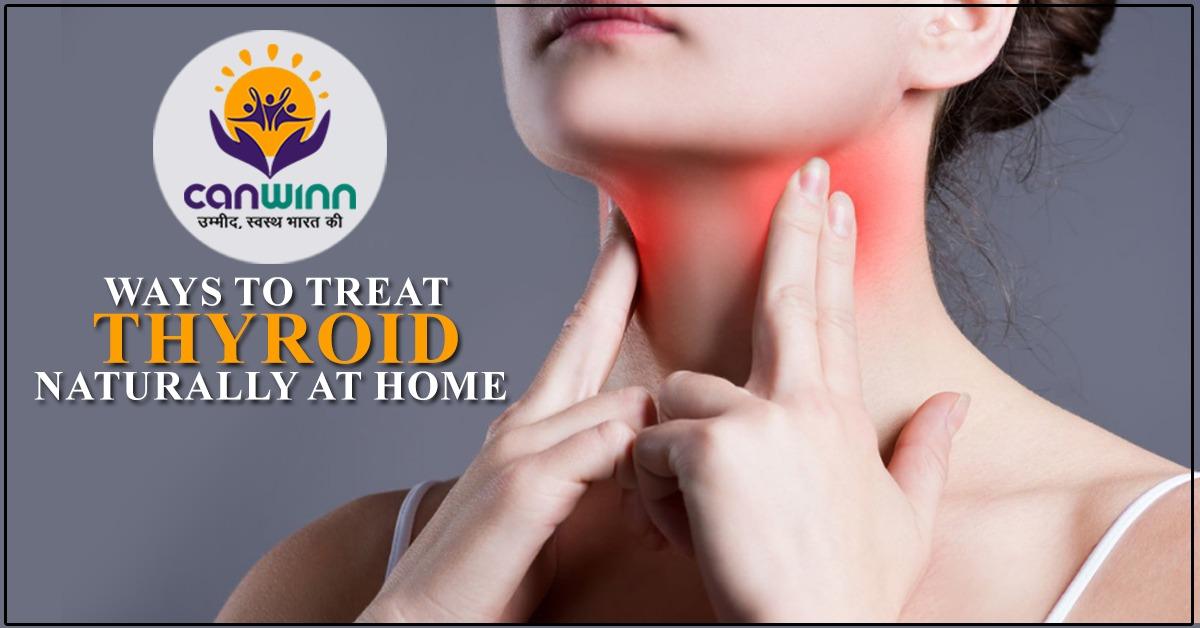 Considerably, the thyroid gland handles most of the metabolic processes that constantly take place in the body. This gland specifically functions in thermoregulation, hormonal function, and weight management.
Having said that, some people suffer from a thyroid disease that seems troublous. Keeping in mind about the condition, Canwinn Foundation is sharing some Ways To Treat Thyroid Naturally At Home.
To some extent, these remedies will keep you healthy and fine.
Ways To Treat Thyroid Naturally At Home
Some ways can be helpful for you if you are suffering from thyroid problems. However, the given below things are healthy anyway. Therefore, you can consider including them in your daily routine to stay healthy and fit.
Coconut Oil
Coconut oil contains medium-chain fatty acids that are considered helpful in the healthier functioning of the thyroid gland. Moreover, when you consume coconut oil without heating, it offers many more benefits. The benefits will include increased metabolism, maintaining a balance of body temperature, and losing weight.
While other oils in the market do not come with many health benefits, coconut oil offers a high content of saturated fat (healthy). Therefore, if you are following a healthy lifestyle along with a balanced diet, coconut oil might be salutary for thyroid glands.
Apple Cider Vinegar
Unquestionable, ACV is popular for aiding weight loss, lowering blood sugar levels, reducing cholesterol, and improving the symptoms of diabetes. This vinegar helps balance the production and expression of hormones.
You can drink Apple Cider Vinegar in the morning by adding honey and water into it.
Ginger
Commonly used ingredient in the Indian kitchens, ginger is the easiest way to treat thyroid. Ginger is packed with important minerals like potassium and magnesium. Perhaps, it can aid in combating inflammation which is one of the chief causes of the thyroid. Use ginger juice in smoothies or juices, or drink ginger tea daily.
Vitamins B
Vitamin B is an essential nutrient that works to aid many bodily problems. Therefore, B group vitamin is also important in combating thyroid issues. When you take food rich in vitamin B, there are high chances that you will receive many benefits. Especially, Vitamin B12 is good for those who are having hypothyroidism.
For the vitamin B supply, consume a diet with eggs, fish, legumes, meat, milk, and nut.
Vitamin D
It is possible vitamin D deficiency can lead to thyroid problems. Therefore, the main natural source of getting vitamin D is sun exposure. Make sure you are at least spending 15 minutes in sunlight daily. Eventually, it will also help in enhanced calcium absorption and strong immunity.
Foods that are a rich source of Vitamin D are fatty fishes like salmon and mackerel, orange juice, dairy products, and egg yolks. However, in cases where the vitamin D levels are extremely low, your doctor might prescribe a supplement.
Almonds
Where most of the nuts and seeds are rich in protein, fiber, healthy fats, minerals, and contain vitamins B1, B2, B3, and vitamin E.
Here, consuming almonds is the best remedy for thyroid-related issues. In addition, almond contains a nutrient called selenium that is healthy for the thyroid. Also, magnesium remarkably plays a significant role in keeping the thyroid gland working very placidly.
Dairy Products
Dairy products are also recommended for thyroid patients. As Milk, cheese, and yogurt are high in iodine, these are very beneficial. In other words, iodine is very crucial for the thyroid glands to work properly.
Beans
Beans are a packet of many nutrients that your body requires. Beans come with fiber, protein, essential minerals, and vitamins that can keep you healthy. Also, beans are loaded in antioxidants and complex carbohydrates.
Being filled with high fibers, beans help with a symptom of hypothyroidism. Consume beans on a regular basis to see the effects.
Flaxseeds
Markedly, flaxseeds are known to provide benefits to the heart and the thyroid. As they are loaded with good fatty acids, flaxseeds support in the production of the thyroid hormones. If you are having hypothyroidism, consuming flaxseeds daily will be beneficial.
Iodine Supplements
Iodine supplements can work to fulfill the requirements of sufficient iodine. This option is good for those who are vegetarians. Ask your doctor, and consider this option for better thyroid health.
Regular Exercise
One of the best ways to cure thyroid is exercise. We cannot forget its role in maintaining overall health. Apart from natural remedies for hyperthyroidism, exercise makes other remedies work better.
Final Words
Know how to cure hypothyroidism naturally and implement in your life to maintain your good health. For any details, contact Canwinn Foundation!