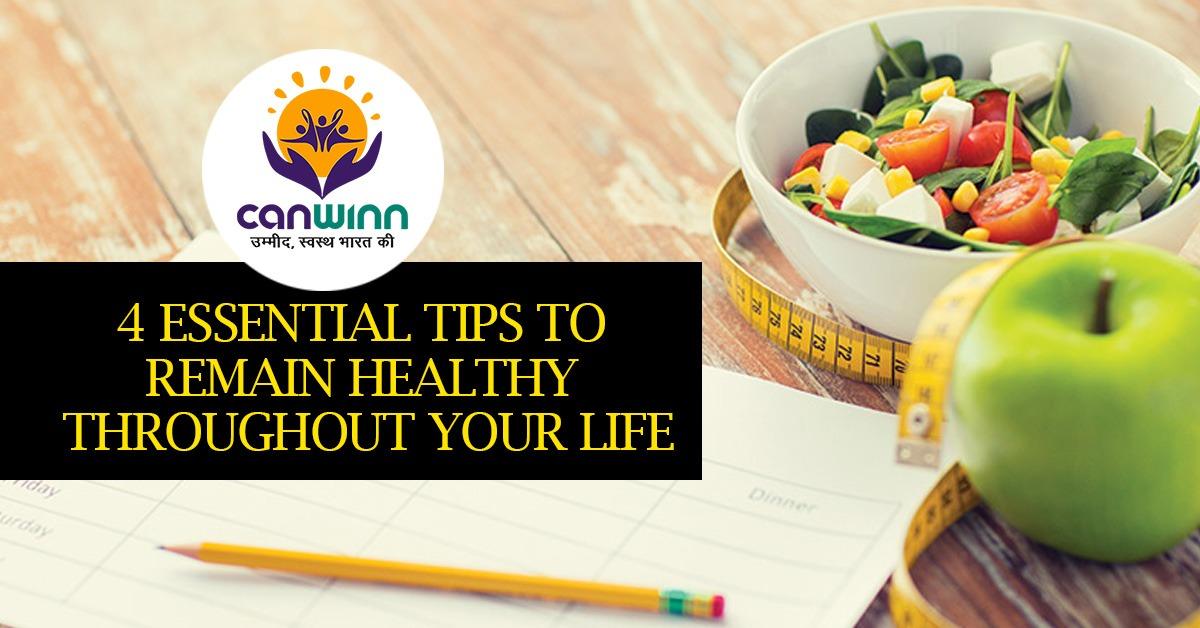 A healthy body and mind is something that makes your life long and happier. Good health makes you more energetic and prevents your body from getting sick. Nobody should neglect their health and keep it on the last priority. Just follow some healthy habits and make your life worth living.
We, at Canwinn Foundation, are going to share 4 Essential Tips To Remain Healthy Throughout Your Life. Therefore, implement the given below tips in your daily life and see the magic of living healthily.
Essential Tips To Remain Healthy Throughout Your Life
1) Nourishment from food and fluids
Your daily diet is the first and most important tip that plays a very crucial role in keeping you healthy throughout your life. Well, if you think you eat a lot to stay healthy, this is not enough. Eating is not everything, you must choose the right foods and fluids.
Anything you consume must give your body proper nourishment. The tips to consider while planning for a daily diet are as follows:
Incorporate vitamins, minerals, proteins, iron, calcium, carbs, and good fat
Have a variety of foods in your plate that creates a balanced-diet
Consume fruits and raw vegetables daily that are rich in fiber, vitamins, and minerals
Drink plenty of water
Take healthy drinks like fruit juices, soup, etc
Always do your breakfast, it plays a very essential role in your whole day consumption and energy
Don't let your junkie cravings eat your health. Therefore, avoid unhealthy fat and processed foods
Avoid sugary drinks that increase the risks of various diseases
If you are a fan of sweets, you do not have to completely give them up. Remember to have them in moderation and avoid excessive intake
Divide your meal consumption times
2) Physical Activities: Essential to Remain Healthy
Staying active physically and mentally keeps you healthy for a lifetime. Simple activities in your daily life like walking, jogging, climbing stairs, playing outdoor games, walking a pet, dancing, etc are the perfect examples of physical activities.
Therefore, to remain healthy throughout your life performing daily physical activities is very crucial. And staying physically activated, you eventually decrease the risk of mortality and morbidity. Tips to stay physically active:
Set a morning routine for a walk. You can go to gyming as well.
Practice yoga. It helps prevent many diseases and keeps you healthy. In addition, it helps you reduce weight.
Avoid sitting continuously for long hours. Sitting and doing no physical activities leads to weakening muscles.
Do stretching from time to time, it will prevent tightening of muscles.
Take walks after heavy meals, especially after dinner.
Exercise daily and keep your body healthy.
3) Don't become clingy to Pessimistic Thinking
In order to live a salubrious life, you do not just have to stay physically powerful but also mentally healthy. And for a peaceful and calm mind, you need to do a lot.
If you always find yourself thinking negatively, do something to prevent this.
Pessimistic thinking is the most poisonous drug to humanity. It does not come from the outer world but our own perception towards life and things induce negative thinking. Being a pessimist, you never can stay healthy and it affects your body and mind in various ways. Therefore, you should avoid pessimistic thinking in various ways:
Spare yourself some minutes and motivate yourself to become an optimistic person
Surround yourself with positive people
In the bad times, talk to your loved ones that motivate you
If your mind is unstable, perform some meditation
Remember, bad times pass too
Possessing a positive attitude is essential to stay healthy. Many studies have shown that positive thinking makes your life healthy and worth living. Seeing life from a brighter outlook opens up many opportunities. Your behavior towards other people, your thinking, self-esteem, lifestyle, everything becomes so wonderful.
4) Avoid toxins
Sooner or later, inhaling or consuming toxins from smoking cigarettes, drinking alcohol, chewing tobacco leads to great damage to your health. Excessive consumption even leads to death. Smoking is the biggest cause of various chronic diseases like cancer.
Alcohol is fine if you take mildly and occasionally. But if you are regular addictive, know that alcohol:
Alters your behavior
Affect your mental orientation
Disturbs your memory
Interfere with your concentration power
Don't let you think straight and reasonably
Might heighten your temper
Damages your liver
Therefore, you must avoid consuming toxins that can damage your health.
In conclusion, follow these simple 4 Essential Tips To Remain Healthy Throughout Your Life.