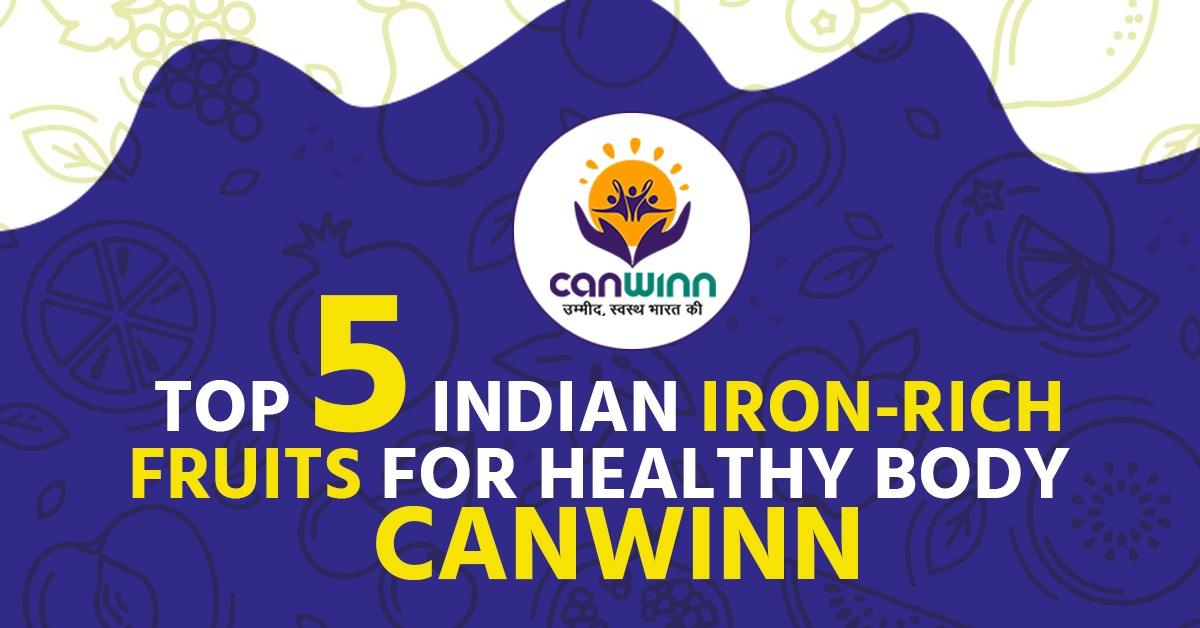 India is full of nature and nature lovers. It has a variety of fruits and vegetables that our body requires to grow itself. Here, we will talk about the Indian iron-rich fruits, that enhance the body health.
Fruits are known to be full of nutrients. Therefore, canwinn will share some fruits that can fulfill the requirement of iron in your body.
Fruits are the best source of fulfilling the daily iron requirement of your body.
The fact is, India struggles with disability in individuals is the result of iron-deficiency. Not only this, Iron- deficiency can cause various health problems including anemia.
Therefore, you must consume the highest iron-rich foods. Are you aware of the Significant Symptoms of Iron Deficiency? If not, take a look below…
Some of the primary symptoms a person can suffer due to iron-deficiency are:
1. Fatigue: It happens when a more insufficient amount of oxygen reaches the body tissues
2. Pale face: Lower levels of hemoglobin causes pale coloration on face and inner eyelids
3. Short breath: It happens when lower levels of hemoglobin cause less oxygen reach
4. Headache: When the oxygen does not properly transfer to the brain, your blood vessels get pressurized causing to headaches
5. Faster heartbeats: Iron deficiency leads to increase your heartbeats as the oxygen level gets slower than usual
Top 5 Indian iron-rich fruits For Healthy Body
Include the given below iron-rich fruits to get over with iron-deficiency:
1. Dates
Rich sources of iron, dates are capable of fulfilling your daily iron requirement. Consume 100 grams of dates daily. Not limited to this, dates also contains:
magnesium
Zinc
calcium
phosphorus
sodium
And vitamins like
thiamine
riboflavin
niacin
folate
vitamin A and vitamin K
2. Dried Apricots
Available in packets as dry fruit, Apricots are a rich source of Iron. They also contain soluble fiber. Consume a cup of dried apricots (at least 80 grams) in breakfast to fulfill your daily iron requirements.
Dried apricot provides non-heme iron that has low absorption capability. Therefore, consider eating them with other fruits that re rich in vitamin C.
3. Watermelon
If you do not like eating dried fruits, go for watery fruit, watermelon. This is also can be consumed as iron-rich fruit juices. This fruit really maintains an ideal level of iron in the body.
Eat at least a medium plate of watermelon.
4. Pomegranate
For the iron-deficiency, doctors recommend eating pomegranate's seeds that are the richest source of iron. It helps in fighting anaemia.
This amazing fruit also contains vitamins along with folic acid like:
vitamin A
vitamin C
And vitamin E.
5. Raisins
Raisins that are dried grapes are a rich source of iron. Grapes are dehydrated to produce raisins and thus, they contain a double amount of iron. Raisins are also packed with
carbohydrates, 

B group vitamins, 

And potassium. 
They are best known for boosting new blood.
So, above are all the good sources of iron and can fulfill your daily iron requirements. They are easily available in India. Include them in your diet chart. Moreover, get added to the highest iron-rich foods list to be satisfied in choosing from many more options.
A requirement of iron in your body
Not limited to single, but many factors influence the iron requirement of an individual. These factors might be:
Age
Gender
Physical activity
Pregnancy
Special requirements as in the infancy stage
adolescence requirements also differ
(Iron-rich Indian foods for pregnancy are also frequently searched)
For vegetarian people, the iron requirement is greater than those of non-vegetarian ones. It is 1.8 times higher, as per Recommended Dietary Allowance (RDA).
Final Words
Canwinn Foundation cares for your health and body, you can keep in touch to know everything about the wonderful things that can contribute to influencing your health with positive effects.