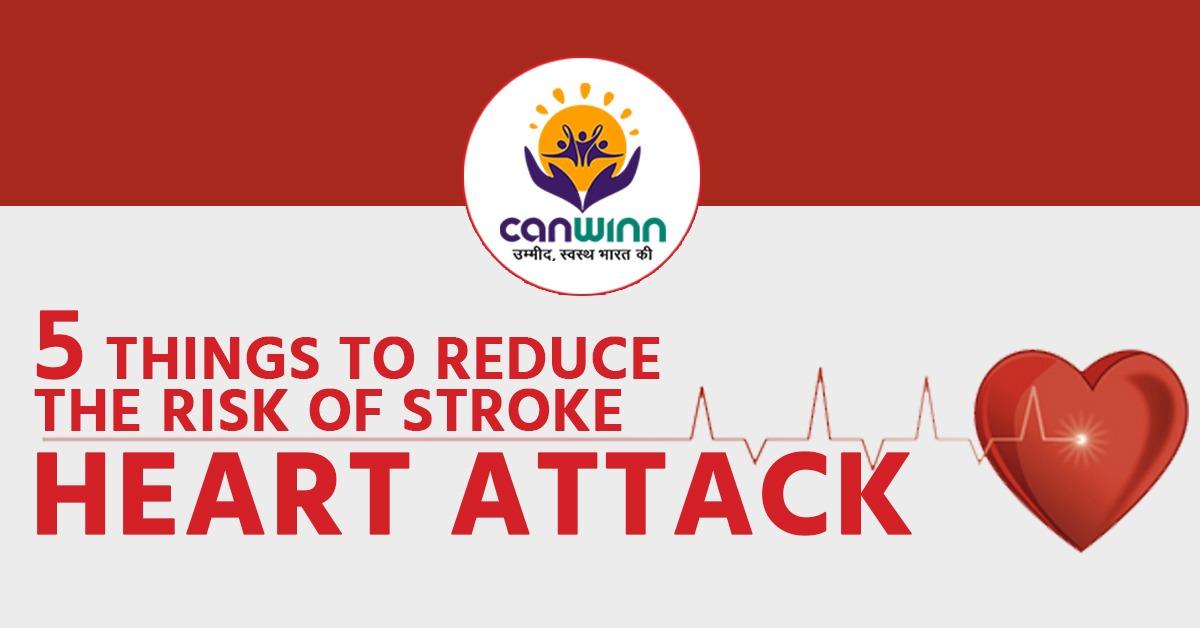 Take a step and move forward before it's too late. Somethings can change your life completely and when it comes to health issues you will face worsening complications. Stroke or a heart attack can change your life completely or might end it.
In case you survive, you never ever will be able to change the effects it causes to your mental health.
Fortunately, the power to stop the Heart Attack or stroke even before it is happening is all in your hand. Canwinn Foundation is going to share 5 things to Reduce the Risk of Stroke -Heart Attack. Maybe a small change in lifestyle and behavior can make a big difference to your health.
Follow these things to Reduce the Risk of Stroke 
1. Quit smoking and reduce the consumption of alcohol
In order to reduce the risk of a heart attack the first step, you should consider should be quit smoking completely. Along with that, if you consume alcohol on a daily basis then you must decrease it from large to light peg. Both of these things can definitely reduce the risk of stroke.
2. Include Exercise in daily routine
Some light physical activities lower the chances of stroke and increase the chances of healthy living. Consider performing the exercise for at least half an hour.
Include do some activities at home:
Brisk walking or swimming are some good options to pick. You can sometimes choose to do weight lifting.
If you are too busy that there are no chances of getting some time from your tight schedule then you can just try a 15 minutes walk in the morning and after dinner.
3. Eat Well to stay healthy
No doubt eating healthy always help maintain your overall performance of the body. For healthy living people follow a healthy diet.
Moreover, by sticking to the well-nourished diet you can always lessen the chances of getting any heart diseases.
Your diet chart should always include proper protein and nutrients as well as minerals.
The daily intake of meals either they are small or big, should include varieties of:
Fruits
Veggies
Whole grains
Eggs
Lean Meat
Cereals
Protein Liquids
If you really want to decrease the chances of heart attack you must avoid process or junk foods that are high in added sugar and salts.
4. Regular Checkups
Getting regular checkups can save you a great deal. It will help you know how your body is performing and if it is all fine or not. You must know about your body's inside health to deal with. If you will not aware of this health situation that may not show up until now with the disastrous effects, how will you try to cope with it?
So, go for regular health screenings to check your cholesterol, blood pressure, and blood sugar (glucose) levels.
If you find anything abnormal in that you should immediately be considered to change a few things that are required to keep your Health within normal limits.
5. Pay Attention to Your Symptoms
Before having a heart attack or stroke, you might already be having some symptoms of heart attack or stroke. No matter if they are moderate, you can always pay attention to recognize if anything is not going well.
Never ignore, deny, or think that they will Go Away on their own. When you feel unusual immediately seek your doctor's help.
The symptoms might include shortness of breath, extreme tiredness, or change when your heart rhythm as well as pain in your jaw or back, nausea or vomiting, sweating, or flu-like symptoms.
Difference between stroke and heart attack
You might be looking for a difference between a stroke and a heart attack.
Heart attack– It happens when the blood flow to a part of the heart gets blocked by blood clots. Therefore, the heart muscles start to die without oxygenated blood that how a heart attack occurs.
Stroke– by cutting off important blood flow and oxygen to the brain, a person gets a brain attack that is also known as the stroke. It usually happens when the blood vessels that feed the brain gets clogged or bursts.
Stay Connected!