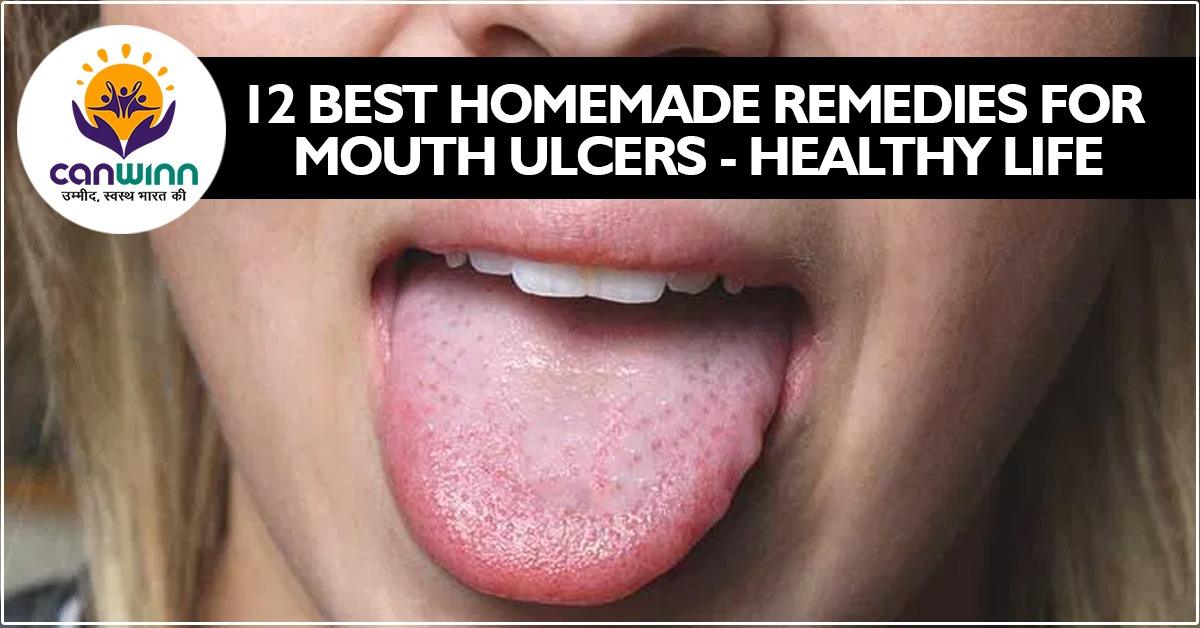 Mouth ulcers or sores or lesions originate inside the cheeks, lips, or mouth base. However, mouth ulcers are harmless, they seem uncomfortable and sometimes painful. The causes of mouth ulcers include constipation, hormonal changes, acidity, and deficiencies of vitamin B or C, iron, and other nutrients.
Fortunately, there are various homemade remedies for mouth ulcers available to use. The remedies we are going to share will surely help you with the mouth ulcer issues.
Mouth ulcer home remedies Ayurveda
1) Honey
Possessing numerous benefits, honey is an effective remedy for mouth ulcers. Therefore, directly apply honey on the ulcers and re-apply in some time. It can quickly repair and protect the skin from infections.
2) Baking Soda Paste
Mix together baking soda and water equally. You will get a thick paste, apply the paste on mouth ulcer, and let it dry. Wash after sometime. Do this three times per day.
3) Coconut Oil
Surprisingly, coconut oil is effective in treating mouth ulcers. Directly apply coconut oil on the affected area. Doing this, your mouth ulcer will be decreased naturally.
4) Saltwater
Take a glass of lukewarm water and add one tablespoon of salt in it. Do gargle with this water to get relief in pain and discomfort.
5) Toothpaste
An easily available essential at your home, toothpaste is a good tongue ulcer home remedy. Applying Q-tip toothpaste on the mouth ulcer for a few minutes will reduce the pain and swelling because of its antimicrobial properties.
6) Orange Juice
Orange is loaded with vitamin C that helps prevent mouth ulcers. Therefore, drink freshly squeezed orange juice. In addition, vitamin C will help your body fight infections and diseases.
7) Clove Oil
Clove oil has many properties that it has been widely used in many natural remedies. One of the best home remedies for mouth ulcers is using clove oil. Therefore, apply clove oil on the affected area with the help of a cotton ball. Let it stay for a few minutes. The eugenol and antimicrobial properties will treat the pain and inflammation caused by mouth ulcers.
8) Coconut Milk
While experiencing mouth ulcers, you can use coconut oil. Gargle with coconut milk three times a day. It offers a soothing effect that will prevent your mouth ulcer.
9) Turmeric Powder
A widely used spice in Indian kitchens, turmeric has many good properties. Therefore, turmeric will combat the inflammation and pain with its antiseptic, anti-inflammatory, and antimicrobial properties.
How to cure mouth ulcers fast?
Take a small amount of turmeric powder and add some water in it to make a thick paste. Apply this in the morning and evening for a few minutes. Rinse properly.
10) Garlic
Another widely used herb in cooking, garlic comes with many qualities. Garlic contains a compound called Allicin that makes it antimicrobial. Therefore, garlic helps you fight many infections.
To use it on mouth ulcers, cut a clove in half and dab it on the affected area for a minute.
11) Cabbage Juice
Make a juice from the boiled cabbage and drink it at least thrice a day. The anti-inflammatory qualities of the ulcer will decrease the pain caused by severe mouth ulcers.
12) Apple Cider Vinegar
Add one spoon of apple cider vinegar in a half cup of warm water. Use this solution to keep inside your mouth for rinsing. After using this solution, you can use plain water for the final rinse. Use this every morning to yield the benefits. ACV kills the bacteria that is responsible for causing mouth ulcer.
Final Words
You can use the above mouth heat home remedies and see the results. However, if you are not getting relief in the condition, you can take mouth ulcer medicine by visiting a doctor. For a fact, mouth ulcers are sometimes mild but they are severe many times and cause pain and irritability. Do not worry, you can treat them effectively.
Moreover, you can simply prevent the mouth ulcers by keeping away the causes of it.
Keep in touch with Canwinn Foundation to keep your life healthy!