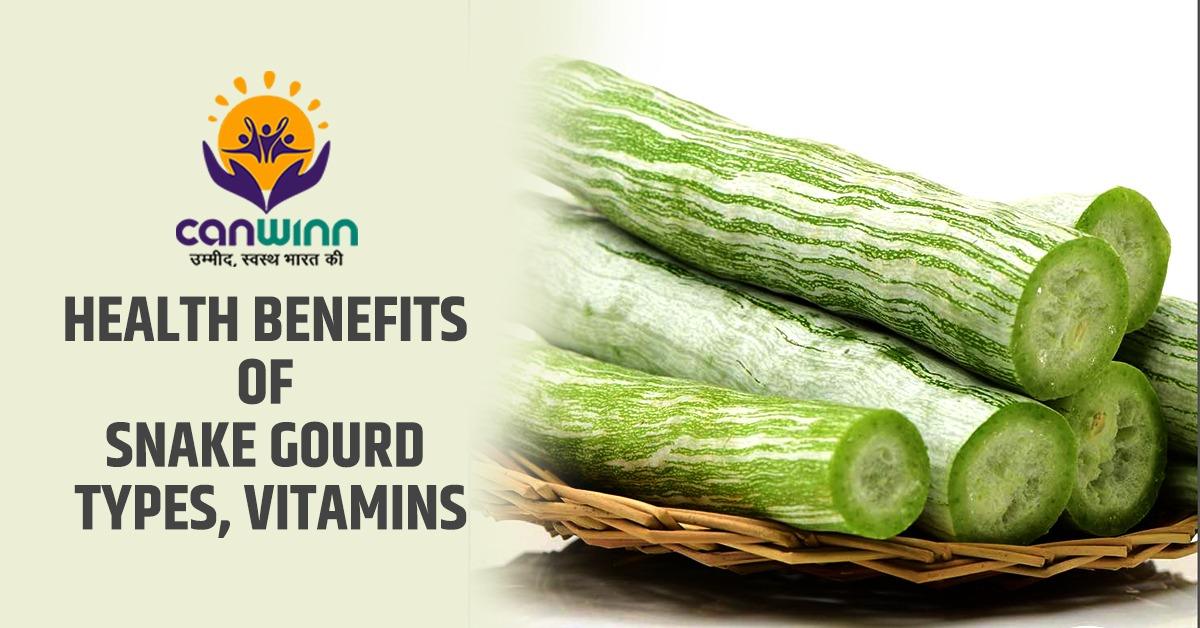 Scientifically called Tricosanthes cucumerina, Snake gourd is a plant that bears fruit. These fruits are consumed as vegetables. Snake gourd scientific name is mentioned above, the common names of snake gourd are Cucumber, Club Gourd, Serpent Cucumber, Gudda Bean, Viper's Gourd, Serpent Gourd, Snake Tomato, Chichinda, and Padwal.
Snake gourd has many health benefits. Its nutritional value proffers wonderful health benefits. We will discuss the Health Benefits of Snake Gourd, Types, Vitamins in this article.
Nutrition Value of Snake Gourd
Snake Gourd possesses numerous nutrients that it is consumed as a vegetable. This vegetable is a good source of Vitamin C, Vitamin B, and Vitamin A. It is commonly known to promote appetite. Similarly, the bitter and wild form of Snake Gourd is used in the Ayurvedic preparations.
snake gourd vitamins and other nutrients include:
Potassium 359.1 mg
Dietary Fiber 0.6 g
Calcium 5.1%
Iron 5.7%
Thiamin 5.2%
Zinc 7.2%
Magnesium 6.7%
Protein 2.0 g
Vitamin A 9.8%
Vitamin B6 11.3%
Vitamin B12 0.0%
Vitamin C, 30.5%
Vitamin E 1.1%
Vitamin D 0.0%
Some of the Health Benefits of Snake Gourd
1. Respiratory Problems
Snake gourd is well known for preventing respiratory problems. This amazing fruit relieves severe phlegm and pus that are found in respiratory tracts and sinuses.
The continue coughs can cause chest infections and irritation. Thus, snake gourd can relieve this infection with its multiple healing properties.
2. Relieves Acidity Problem
The benefits of snake gourd include relieving acidity.
When you consume snake gourd it cut down the creation of problem causing acids. Therefore, it does not let you suffer from acidity.
Furthermore, snake gourd helps in treating many other health conditions like gastritis, peptic ulcers, and duodenal ulcers. In fact, it gets you relief in chronic heartburn as well.
3. Fights Free Radicals
Snake gourd stops your body to generate free radical cells. And therefore, this vegetable neutralizes free radical cells so that they won't cause further damage to your important organs.
Try to add the snake gourd in your daily diet to fight against hazardous cells.
4. Treats Liver Problems
Snake gourd is loaded with hepatoprotective components. These components are known to treat problems that are associated with the liver. Therefore, it is helpful in protecting your liver from dangerous illnesses.
5. It Eliminates Toxins
Snake gourd juice is well known to remove toxins from your body. If you consume the snake gourd juice, you will get benefits of snake gourd in your metabolism, and also you will be gut fresh and germ-free.
According to the experts, you should consume at least 2 tablespoons of snake gourd juice early in the morning.
6. Prevent Arterial Disorders
Snake gourd is helpful in maintaining cardiovascular health. This vegetable removes bad cholesterol from your arteries.
7. Beneficial for Diabetes patients
Along with other green leafy vegetables, doctors recommend adding snake gourd in your diet. This keeps your body weight under control and deals with type 2 diabetes.
8. Treat your Scalp Disorders
Scalp disorders are a common problem that can lead to complete hair loss. To prevent this, you can apply a fresh extract of snake gourd to your scalp. From mild to severe, every scalp problem can be treated with its juice.
9. For Healthy Skin
Not limited to the diseases but snake gourd is the most effective remedy for skin. The multivitamins presented in the snake guard restore the skin tissues and cells that leave your skin young again. Moreover, snake gourd nutrients also help your skin get clearer and radiant.
Types of Snake Gourd
Some popular Types of Snake Gourd are as follows:
1. Snake Gourd, Long EX:
Green skin with white stripes, 10-20 inches long.
2. Snake Gourd, Hybrid Snaky:
Green in color with lengthy white stripes and 1.5? x 18? in size as well as 100-120 grams in weight.
3. Snake Gourd, India Short:
Mild greenish in color with white skin. It has a green stripe shoulder and size is about 12 inches lengthy and 2.5 inches in diameter.
4. Snake Gourd, Hybrid White Glory:
White in color and are about 38 cm x 3.5 cm in dimensions and 100 grams in weight.
5. Snake Gourd, Hybrid Thai Extra Long:
Light green in color with white stripes and 370 grams in weight.
Consume healthy food, and stay healthy!