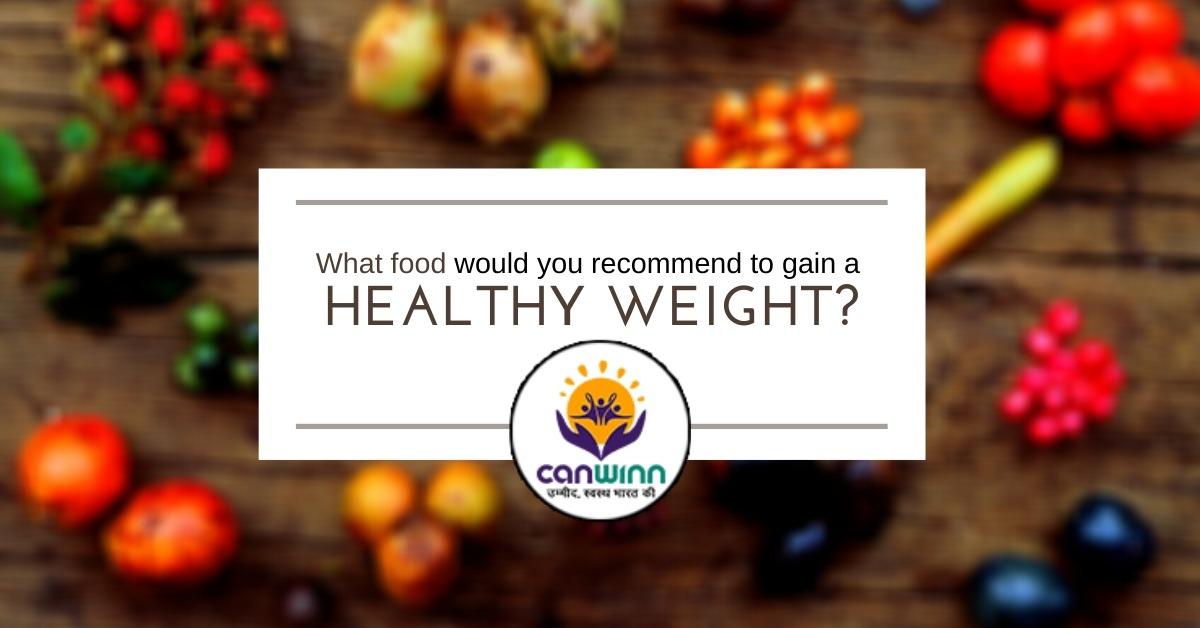 Where some people struggle to lose weight, some of them struggles to gain it. However, it is not as difficult as you think. Just by adding the right foods, you can gain a healthy weight. Without taking much time, Canwinn Foundation is recommending some amazing foods to gain a healthy weight.
Take a look below:
Also read: Best Vegetarian diet plan for weight gain – 30 Day Challenge
Homemade Smoothies that are full of Protein
Make yourself some smoothies at home with full of nutrition and protein to gain weight quickly. Give below are some of the choices you can have with your smoothie. You can even try them alternatively. For the better flavor, use some almond milk. Now, dive into some tasty and healthy smoothies:
1. Chocolate banana nut shake
Take a banana, add 1 scoop of chocolate whey protein in the mixture and after that, add 1 tablespoon of peanut. Start the mixture and make your smoothie ready. It is the most common and quickest way to gain weight.
2. Vanilla-Berry Shake
Take some fresh berries and yogurt. One cup of each ingredient is enough.
3. Chocolate hazelnut shake
To make yourself a chocolate hazelnut shake at home, take 444 ml of chocolate milk, add this with 1 scoop of chocolate whey protein. Now, to add some more nutrition, mix them with 1 tablespoon (15 ml) of hazelnut butter and 1 avocado. Sounds yummy, isn't it?
4. Caramel apple shake
Are you a fan of caramel? Then, here you go… Take a slice of apple, add 1 scoop of caramel with it. Now, take 1 cup (237 ml) of natural yogurt, and 1 tablespoon of sugar-free caramel sauce to add some flavors. Grind them all together. Your healthy and tasty Caramel apple shake is ready.
5. Blueberry Shake with a touch of Vanilla
Take 1 cup of fresh berries, now add some yogurt in it. Take a grinder, add both the ingredients with vanilla whey protein and mix them.
6. Super green shake
Drink green, To become the healthiest person. Take one cup of spinach, a banana, one cup pineapple, and a scoop of vanilla whey protein. Mix them in the grinder to make your smoothie ready. Drink it daily to feel healthy, energetic, beautiful, and fit.
Above all the smoothies are a great source of proteins and nutrients. They probably provide 400–600 calories. And as they are homemade, you do not have to bother about any unhealthy ingredients presented in the smoothie. Therefore, consider avoiding market smoothies, when you have such wonderful recipes to use.
Also Read: Difference Between healthy food vs junk food
Milk
Commonly known for weight gainer or muscle builder, milk proffers a good balance of proteins. It is a good source of calcium, and additional vitamins and minerals. Consider including one or two glasses of milk with a regular meal. If you are doing a workout, have a glass before or after it.
Rice
The most convenient way to gain weight is including rice in your daily meal. According to the fact, 165 grams of cooked rice is enough to get 190 calories. Therefore, it is healthy to eat them on a regular basis.
Nuts and Nut Butters
If you are struggling to gain weight, nuts are the best choice to pick. Only a handful of almonds deliver 18 grams of healthy fats and 7 grams of protein. Have them per day with your breakfast snacks. Now nut butter, since they are creamy and contains calories, you can have them with yogurt, granola, or smoothie.
Also Read: What to eat and avoid during typhoid – Healthy Diet Tips By Canwinn Foundation