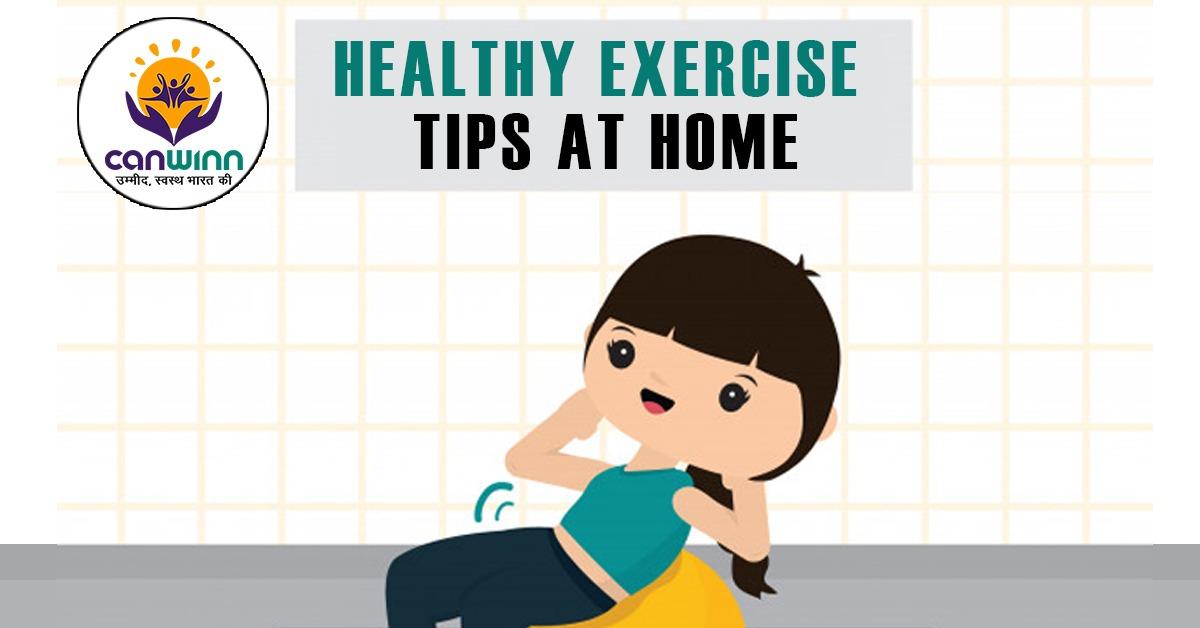 It is understandable that some of us do not like going to the gym or gearing up for an outdoor workout like running or biking. Nevertheless, it is not even necessary. Canwinn is presenting Healthy exercise tips at home to keep you away from the tension of making the time for the gym. Simply, follow the given exercises to keep your body healthy and fit.
1. Circuit Train
Circuit training is excellent for pumping up your heart rate and building strength. It does not even take a long time to show results. To do this exercise at home first you need to create a circuit. You will have to choose some cardio exercises like jogging in place, jumping jacks Step Ups, burpees, and jumping rope.
After that, pick three strength training exercises like pushups, planks, abdominal crunches, triceps dips, wall sits, lunges, and squats. You have the option to search the videos on the internet regarding the exercise. It will give you a good idea about the movements.
2. Skipping
The easiest and most efficient exercise, jumping rope burns calories, elevates your heart rate, and eventually, improves coordination, muscle elasticity, and brain function. Try it, you will surely enjoy this exercise at home.
Moreover, start hopping with 30-second intervals of jumps after a short warmup. Take rest between the intervals for up to 30-seconds. You can combine single-leg jumps, split-leg jumps, wide-to-narrow jumps, running in place, and taking off and landing on both feet with it. Gradually, increase the time of this exercise to boost up your stamina.
3. Box or Kickbox
Well, fun for some, but stress calmer for others, Boxing and kickboxing are stellar conditioning workouts. You can do them at home while channeling your inner aggressor and relieving stress. Boxing brings your inner strength alive and eventually, makes you feel stronger than before.
Take Alternate 1-minute intervals of jabs, crosses, and kicks. Similarly, the one-minute interval of active recovery like shadow boxing, jogging in place, or skipping rope.
Not too fast, but slowly extend the time of your active intervals.
4. Climb Stairs
Intrigued? Or unsure?
Climbing stairs is the simplest and yet effective workout at home. To do this, set the timer for your workout, and according to that, walk up and down your stairs, and repeat until it beeps.
Again, start this workout with less time and increase it after a few days. Strength training bonus: Consider Taking breaks for calf raises. Meanwhile, put the balls of your feet on one step, then use your calf muscles to raise up as high as you can. Lower your body and after that, return to your beginning position and repeat.
5. Mood Booster: Dancing
This is an amazing way that lifts your spirits and your heart rate. Dancing does not need following particular steps, we all got our own style. And the great thing is that dancing works for all. It has various benefits to your health as it helps with bone density, muscle strength, coordination, and balance. In addition, dancing relieves your stress, helps with energy, mood, self-esteem, and confidence.
In conclusion, do not waste your quarantine time just like that. Practice some exercise to make yourself fit and fine.
Exercise Video Resources
Collage Video — This is the best website for buying exercise videos. Check all the resource For In-depth Details.
Video Fitness — Famous For Review Videos 
Cathe.com —  Cathe is One of the best Health instructor, Check-out video