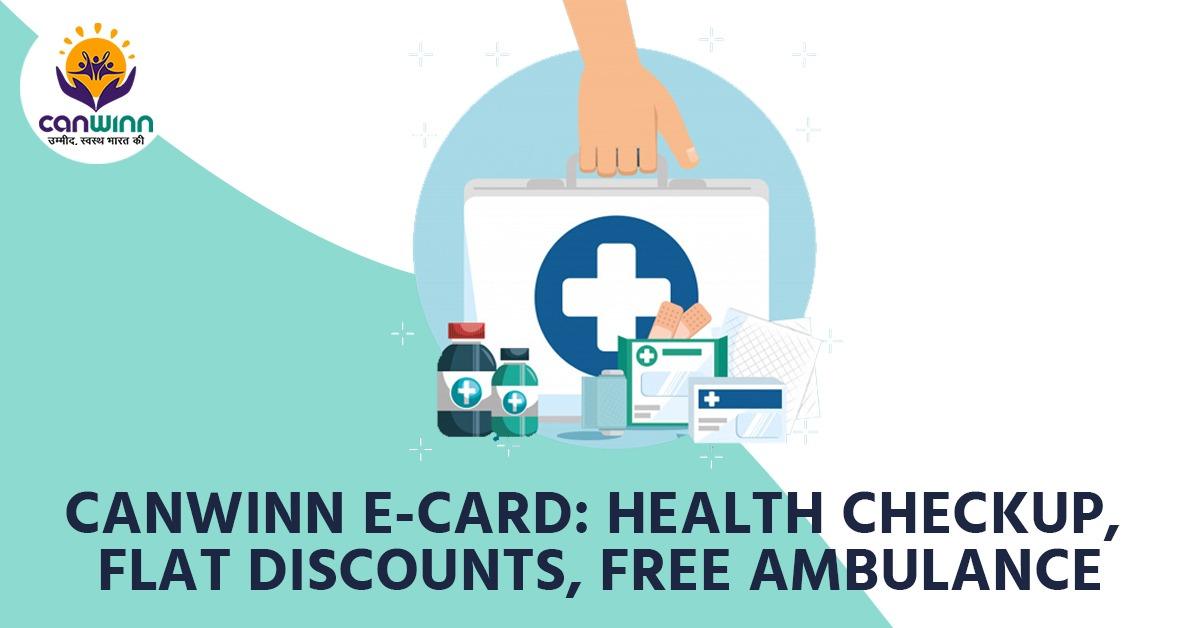 Canwinn Foundation has been providing help that enables you to get the benefits of all the services that are included in the list of Canwinn's social work.
How it Works:
This NGO with unconditional social works brings so many opportunities for ordinary people.
These people can get benefits in many ways. All they have to do is get a membership card from a Canwinn foundation and enjoy all the benefits they have been giving.
Canwinn Foundation provides a membership of an E-health card that allows you to connect with this NGO and avail the benefits of their services anytime.
To Get All Details Regarding Free Medicine Delivery, Call Us On Our Helpline No. – 9654000098
Benefits of canwinn E-card
When you have a Canwinn's e-health card, you can avail:
Free Health Check-ups during camps
Call for a free Ambulance service
Flat Discounts on Hospital Bills
Free Lab tests
Facility to order online medicine with a 15 percent discount
Free online consultation with the top Doctors in Gurugram
Join a free webinar that has been organized to spread the disease and health awareness
Connect with the top cancer treatment hospitals in Gurugram
Get Discounts on medical bills
Get free blood in the emergency situation
The COVID-19 test facility at home
Free Corona medicine on the Canwinn's Address
Charge of E-card
As canwinn Foundation is a non profit governmental organization, it does not charge anything to connect. The services are absolutely free of cost. Moreover, all these services are designed to give as many benefits as possible to the people who are suffering from health problems and diseases.
How to get canwinn e card
The process is really simple, you do not have to go through the complications. To get the canwinn card facility all you have to do is contact this Foundation through their helpline number. They will fill you with details of getting the canwinn E-card.
Just follow the process that is really simple. And you will get the membership card without paying anything. This card will benefit you in many ways.
The aim of launching E-Card, by Canwinn Foundation
The E-card service has been launched to connect people to the right place. Canwinn ecard is launched for the citizens of Gurugram.
This membership card allows people to digitally take advantage of services. Through smartphones or tablets, you can avail of the services given by Canwinn. Moreover, the data-driven from the consumers helps the canwinn team to evaluate the risks and diseases presented in the community.
Privacy Concern
This organization guarantees the confidentiality of consumers and take their data with security and safety. Therefore, nobody has to worry about the data they have been giving to the NGO.
Free Ambulance Services
The E-card service is also associated with Free Ambulance Services given by Canwinn Foundation. This service allows people to call an Ambulance for free in times of emergency. Therefore, the citizens of Gurugram no longer have to wait for the Ambulance from the hospital and pay a huge amount for that.
Flat Discounts
On medicines and medical bills, the canwinn provides flat discounts to avail by E-card membership. The discounts are also available in the lab test. Free home delivery of medicines has been started just a few months ago. This service is also giving many benefits to the citizens of Gurugram.
Final Words
Canwinn Foundation works for the welfare of the common public. They unconditionally provide a helping hand to go through hard times. This is a real social work that is letting people be happy again. The organization hopes to remove all the worries of people and give them many benefits.
Connect with Canwinn Foundation, get a membership to enjoy the services of this NGO.
To Get All Details Regarding Free Medicine Delivery, Call Us On Our Helpline No. – 9654000098