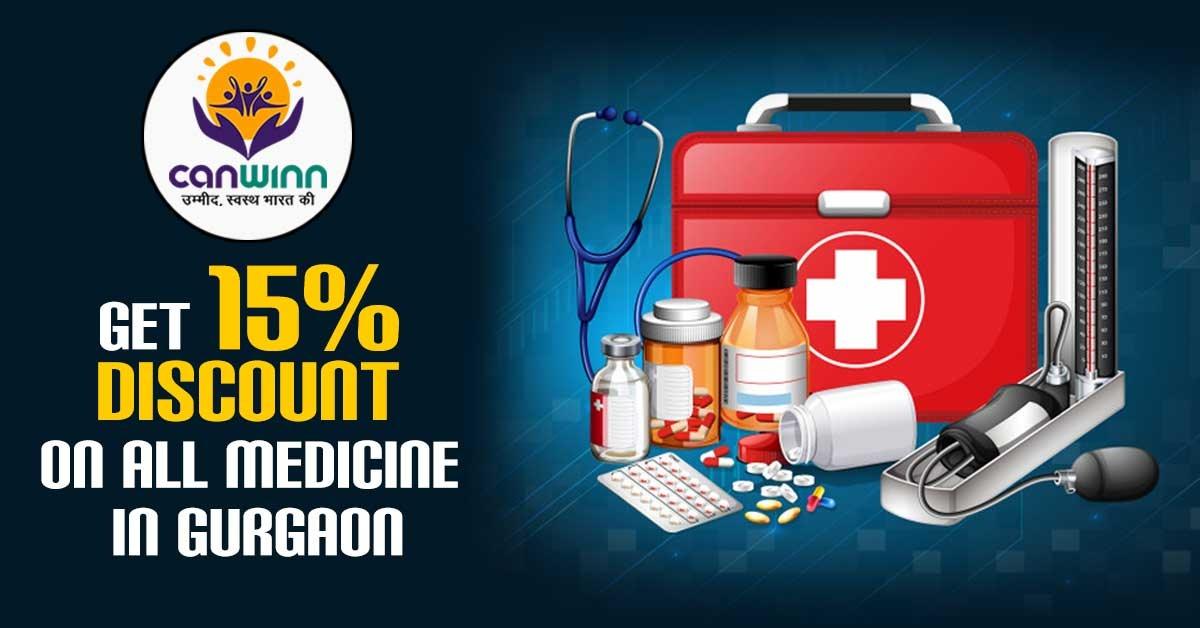 Stay fit and active at home and Get a 15% discount on all medicine in Gurgaon- Canwinn
The importance of social distancing and staying at home has been spread like the Fire. That is a good thing if people are aware of protecting themselves from the novel coronavirus. For the Welfare of people, Canwinn Foundation has started many social services that include a 15% discount on all medicine in Gurgaon.
Till now, people are using this service very smoothly. This service provides home delivery of medicines with a 15% discount.
Note: If you are not aware of this service, contact Canwinn Foundation today to know and avail services.
How to get Discounted medicines In Gurugram?
Do not bother to go out in the market and rush for the medicines because the home delivery service of medicines is available with a 15% discount. Moreover, medicines are included in the essential commodities that mean it is the common need of every person.
Required medicine can not be ignored or taken for granted.
Where some people are already having the long term diseases, some are experiencing aches and the common cold. No matter what the reason is, medicines are necessary and for this necessity, we don't have to go out in the crowd.
Just order them online to lessen the chances of getting COVID-19.
Social Distancing
Now, we were talking about social distancing. So, the social distancing policy really helped a lot to limit the transmission of novel Coronavirus. It is because people have been spending time at their homes. And while going out, they have been maintaining social distancing and not getting in touch with others.
The distance of 2 meters recommended by the experts that are keeping people away from getting infected with the deadly virus.
Self-isolation at home
Currently, if you are mature enough to understand that self-isolation is necessary, our mind and body require some activeness to function normally. So, let's discuss how to stay active and fit at home during this challenging period of coronavirus.
Do some exercise daily, that will activate your immune system making it stronger than ever before. If your immune system is strong you will surely be less susceptible to coronavirus and you will be capable of getting a quick recovery.
How much physical activity is required to stay active?
For the adults, at least 150 minutes of moderate-intensity has been recommended. In addition, 75 minutes of vigorous-intensity physical activity will do a good.
And these are not specific, but a global recommendation.
It is better to do any activity than to set idle full of laziness and negative thoughts.
Activities not only make you physically active but also remotes mental health.
Take a little break to refresh the whole body
Continuous sitting in front of your computer can make your mind as well as body overwhelming. It is important to take a small break after every 30 minutes.
All you have to do is, stand up stretch your body or just drink some water. Take a small tour in your home and if you are a dog lover and have a dog, play with him for a few minutes.
These things will freshen you up.
Use some stairs
While you don't have much equipment to exercise, use your stairs with the timer. It is the best way to maintain fitness. Going up and down will boost up your stamina.
Enjoy the dance to throw the COVID-19's stress away
You can sue online videos of concerts or your favorite dancers to use some steps and dance like a rockstar. It might not make you a start but it will definitely release your stress.
Music is a really magical thing that exists on this planet. We should use it in more amazing ways.
Above all, use the services of the Canwinn Foundation to help yourself during this chaos.