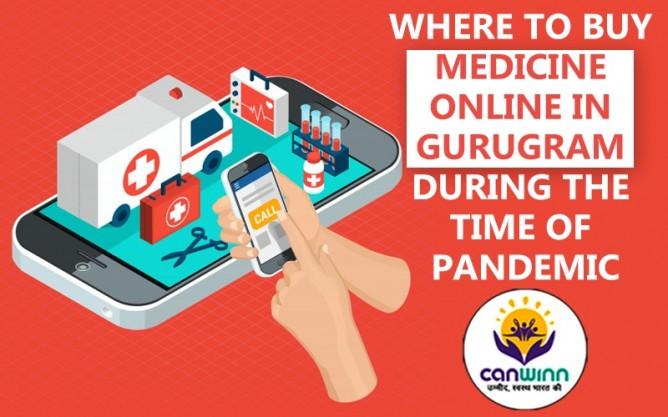 The coronavirus outbreak has stopped the world suddenly. From big organizations to schools and colleges, everything has shut down. In one way or another, we all are fighting against COVID-19. But don't you think that in this perilous time, we all need each other to support?
Just like the Government officials, doctors, nurses, cleaners, and policemen, we all should take a step ahead according to our will to help each other.
Canwinn Foundation has been indulged in the activities that directly benefit the ordinary man. During this pandemic, Canwinn and its team are working to help needy people 24*7. We support the lockdown with all our heart and we don't want anyone to step out from their doors. That's why we are providing medicine home delivery in Gurugram with a 15% discount. The medicine delivery is absolutely free. Discounted authentic medicines doorstep delivery in Gurugram will help you in the needy time and keep you stay safe.
We just expect co-operation from your side as well.
Please read below the points and follow them while getting our unconditional services:
– Please do not change your order once it has been processed.
– It takes a few hours to deliver the medicine, although if you need medicines urgently, you can mention it so that we can deliver it to you asap.
– The order shall be of at least Rs. 200.
– For the medicine home delivery in Gurugram, kindly check your home delivery address and contact number twice.
– There is no discount on a few medicines because on some medicines the chemist gets no margin as well.
Discounted authentic medicines doorstep delivery in Gurugram points
Medicines should be packed in plain packaging
The delivery person should wear mask and gloves, although delivery should be achievable without direct contact
Keep in mind all the things that need to be sanitized during the delivery process
Notify the expected timing of the delivery and mention urgent deliveries as well
Delivery staff should avoid ringing the doorbell. Instead, directly call on the given number
While handing over the package, stand back a minimum of 1.5 meters from the other person
Canwinn foundation and its team are trying their best to help you get through this typical period. Don't lose your hopes!
And please we request you to follow the advisory released by the Ministry of Health Department with honesty and courtesy
We can't be irresponsible during this time because it's not only about the individual person, it's not about the caste and religion, it's about the whole Nation. India is under the attack of coronavirus. We can't let it destroy us just like that. We understand that you might be feeling anxious and stressed during this critical time but don't lose your hopes, just be strong, calm yourself and your surroundings, and help others to cope up with the disease's tensions.
Step ahead and help the needy people you see near your house. And motivate others to do the same.
If you are in need of any medicine, just contact Canwinn Foundation and please, we are requesting again, don't go outside your house.
We are here to help you.
#Together we can fight Corona!
#Corona Haarega India jitega
#StayHomeStaySafe
#Medicine home delivery in Gurugram
Important Contact details:
Now you can WhatsApp on MYGOV CORONA HELPDESK +91-9013151515 for any queries related to Novel Coronavirus, or COVID-19. Your queries will be resolved in real-time with automated responses.
Helpline Number Toll-free: 1075
+91-11-23978046
Helpline Email ID: ncov2019[at]gov[dot]in OR
ncov2019[at]Gmail[dot]com
Website:
Check when you should get tested ?
Quarantine if advised
Please maintain social distance to help yourself and your family stay safe.
Find below the List of districts reporting COVID-19 cases ?
Isolation of persons traveling from affected countries or places for at least 14 days
Please watch the videos by Director, AIIMS – Delhi to learn and clear your doubts on Coronavirus ?
Coronavirus infection can be prevented through the following means ?
? Clean hand with soap and water or alcohol-based hand rub
? Cover nose and mouth when coughing & sneezing with a tissue or flexed elbow
? Avoid close contact & maintain 1-meter distance with anyone who is coughing or sneezing
For further details, contact Canwinn Foundation!
Call: +919654000098
Whatsapp: +919990597541
Email: canwinn07@gmail.com
Join@canwinn.org