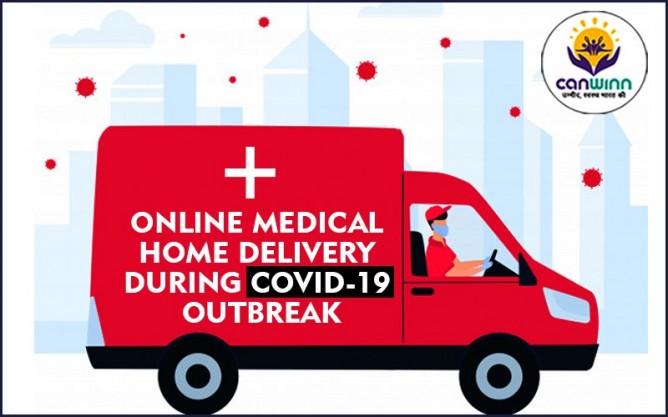 Due to the corona outbreak, many agencies had shut their doors for regular service. But for us, some of the things are necessary and cannot be compromised. One of them is medicines, either they are a daily basis or weekly. Therefore, during the current period, you require Online Medical Home Delivery services that can give you safety as well.
Medicine Delivery in Gurugram
Canwinn Foundation has started home delivery service of medicines with up to 15% discount in 10 KM area. This newly invented service to help the people inside homes is a temporary program.
It aims to support and protect the most vulnerable members of our community from potential exposure to novel coronavirus (COVID-19).
How it works:
Visit the Canwinn Website
Note down the helpline number
Call on the given number
Ask them for your medicines and give them the information what they ask for
If you need medicines urgently, tell them
Wait for the delivery to arrive
Please Remember:
Do not change your order once it is proceeding
Make sure you are giving the accurate delivery address and contact number
Purpose of medicine delivery facility
Canwinn Foundation has started the service during the COVID-19 outbreak to help people and fulfill their requirements while they keep themselves inside their homes. We all are locked down as per the government announcement to stop the further spread of coronavirus. We all want the same thing and that is the removal of Coronavirus from this planet. Our services are completely based on serving humanity during a critical time. We all are aware of the fact that during Corona lockdown there are many people who are facing different circumstances that are against them. So, it is your duty to help those needy people and make them survive this dangerous period of the century. The main purpose of online Medical Services is to keep people inside their homes safe and healthy. We don't want them to rush into physical stores and get vulnerable to the infection.
Hopefully, you will stay healthy and fit.
Read more: CORONA: Effective ways to prevent the transmission of the deadly virus
Note: Canwinn Foundation is providing medicines with a 15% discount at your doorstep in Gurugram, Haryana.
Use this service during the pandemic and don't go outside your home. Follow Lockdown 2.0 with honesty.
You can now get the free Ambulance Services from Canwinn Foundation. Our services are limited to Gurugram only. Contact us for more details.
#Together we can fight Corona!
#Corona Haarega India jitega
#StayHomeStaySafe
#Medicine home delivery in Gurugram
Important Contact details:
Now you can Whats App on MYGOV CORONA HELPDESK +91-9013151515 for any queries related to Novel Coronavirus, or COVID-19. Your queries will be resolved in real-time with automated responses.
Helpline Number Toll-free: 1075
+91-11-23978046
Helpline Email ID: ncov2019[at]gov[dot]in OR
ncov2019[at]Gmail[dot]com
Website:
Check when you should get tested ?
Quarantine if advised
Please maintain social distance to help yourself and your family stay safe.
Find below the List of districts reporting COVID-19 cases ?
Isolation of persons traveling from affected countries or places for at least 14 days
Please watch the videos by Director, AIIMS – Delhi to learn and clear your doubts on Coronavirus ?
Coronavirus infection can be prevented through the following means ?
? Clean hand with soap and water or alcohol-based hand rub
? Cover nose and mouth when coughing & sneezing with a tissue or flexed elbow
? Avoid close contact & maintain 1-meter distance with anyone who is coughing or sneezing
For further details, contact Canwinn Foundation!
Call: +919654000098
Whatsapp: +919990597541
Email: canwinn07@gmail.com
To stay updated about corona news, follow Canwinn Foundation on Twitter, Facebook, Instagram, and YouTube!