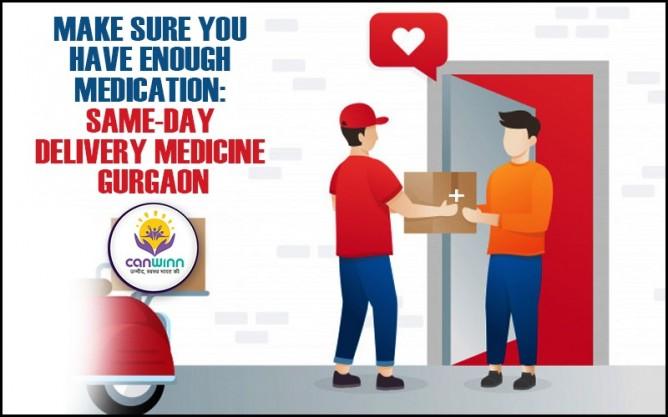 Important reminder: If you require a refill for your essential medication, Contact Canwinn Foundation during lockdown for Same-day delivery medicine Gurgaon. You can simply go straight for helpline numbers instead of contacting other people.
In the wake of COVID-19, people are in a frenzy right now hoarding everything from toilet paper to hand sanitizer. As there is a fear of limited stock at grocery stores, business closures, and potential quarantine, they are flooded with a lot of thoughts. However, since the beginning of lockdown due to the corona outbreak, the government is urging Indian not to hoard.
Well people, you do not have to buy everything in excessive quantity, Take it easy. Just relax. The government and organization are there to help you with everything you need.
Medications during lockdown
Especially, if you're part of a vulnerable population, you do want to take extra precautions to make sure you have the supply of medication you need. The tension is basically for the people's thoughts that what if drug companies will run out of your drugs? You do not want to go out in search of your medicines. That's why online medication services have been started.
How much medication should I possess during this critical time?
The Centers for Disease Control and Prevention (CDC) also recommends patients to create an emergency supply of prescriptions. They suggest having a 7- to 10-day supply at home. You'll have to ask your medication department if you can get an emergency refill. You should not run out of enough heart medications, diabetic medications, or any potentially life-saving medication that you need on a routine.
Has WHO warned there may not be a vaccine for COVID-19?
Currently, more than 100 vaccines are under pre-clinical trials. Furthermore, some of those have entered the human trial stage.
There have some warnings generated by the Leading health experts that scientists may not be able to develop a vaccine against the coronavirus disease (Covid-19) at all. They have pointed out that it has happened in the case of HIV and dengue.
We all are aware of the fact that there are still some viruses that exist on this planet that are infecting people, but we still do not have any vaccine against them. However, we are not supposed to make an assumption that a vaccine will appear at all. Scientists and doctors are regularly searching for a cure. We all want the same thing, to cure corona or to completely get rid of it.

Read more: Coronavirus Outbreak: How to Sew a Mask at Home
During this outbreak, Canwinn Foundation is providing medicines with a 15% discount at your doorstep in Gurugram, Haryana.
Use this service during the pandemic and don't go outside your home. Follow Lockdown 3.0 with honesty.
You can now get the free Ambulance Services from Canwinn Foundation. Our services are limited to Gurugram only. Contact us for more details.
#Together we can fight Corona!
#Corona Haarega India jitega
#StayHomeStaySafe
#Medicine home delivery in Gurugram
Important Contact details:
Now you can Whats App on MYGOV CORONA HELPDESK +91-9013151515 for any queries related to Novel Coronavirus, or COVID-19. Your queries will be resolved in real-time with automated responses.
Helpline Number Toll-free: 1075
+91-11-23978046
Helpline Email ID: ncov2019[at]gov[dot]in OR
ncov2019[at]Gmail[dot]com
Website:
Check when you should get tested ?
Quarantine if advised
Please maintain social distance to help yourself and your family stay safe.
Find below the List of districts reporting COVID-19 cases ?
Isolation of persons traveling from affected countries or places for at least 14 days
Please watch the videos by Director, AIIMS – Delhi to learn and clear your doubts on Coronavirus ?
Coronavirus infection can be prevented through the following means ?
? Clean hand with soap and water or alcohol-based hand rub
? Cover nose and mouth when coughing & sneezing with a tissue or flexed elbow
? Avoid close contact & maintain 1-meter distance with anyone who is coughing or sneezing
For further details, contact Canwinn Foundation!
Call: +919654000098
Whatsapp: +919990597541
Email: canwinn07@gmail.com
To stay updated about corona news, follow Canwinn Foundation on Twitter, Facebook, Instagram, and YouTube!