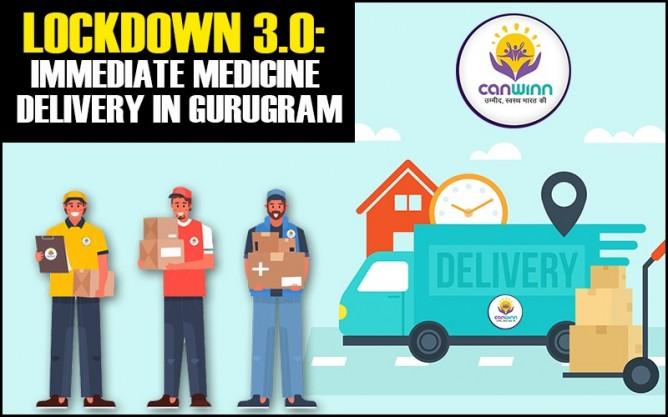 Remember: You can have Immediate medicine delivery in Gurugram from Canwinn Foundation during lockdown 3.0.
In India, the third phase of the lockdown has already started with new guidelines. However, the lockdown 3.0 begins with "considerable relaxations", the curbs will continue in containment areas. Whatever the lockdown situation is, we all know that we have no corona vaccine till now and the number of COVID-19 cases has been increasing daily. Therefore, it would be smart to stay home.
Lockdown 3.0 Area zones
Based on coronavirus risk-profiling, India has been divided into three zones.
These three zones are:-
Red zone
Orange zone and
Green zone
Irrespective of the zones, some activities are still prohibited throughout the country, those are air, rail, metro travel; inter-state movement by road; colleges, schools, and other educational, training, and coaching institutions; hospitality services, including hotels and restaurants.
To obey the social distancing to prevent the transmission of coronavirus, places of large public gatherings like cinema halls, malls, gymnasiums, sports complexes, social, political, cultural, etc are restricted along with other kinds of gatherings and religious or public worship places.
Awareness
Volunteers and NGOs around the country have been creating awareness about staying home during the nationwide lockdown imposed to curb the coronavirus. NGOs like Canwinn Foundation is trying to help needy people with every essential service to motivate them to stay inside the home. Coronavirus outbreak brought a drastic change all over the world. Some people got really affected by this. These times require to show unity and strength. Helping each other can heal the wounds.
Which company has the fastest online medicine services?
It is important in some cases to get an immediate response regarding medical services. Because the sudden injury or body pain demands immediate attention.
Therefore, the fastest online medicine services become the necessity of us in one situation or another. Due to lockdown, Canwinn Foundation has taken a step to start an online medicine delivery program so people will not have to go out to buy medicines. This organization is providing the fastest online medicine services in Gurugram.
When you get the online medicines at home, you clearly lessen the risk of getting infected from the COVID-19. The intentions of starting such online programs are also to keep the public safe from the deadly virus that is waiting for you outside. Therefore, you should consider getting online services while staying at home.
During this outbreak, Canwinn Foundation is providing medicines with a 15% discount at your doorstep in Gurugram, Haryana.
Use this service during the pandemic and don't go outside your home. Follow Lockdown 3.0 with honesty.
You can now get the free Ambulance Services from Canwinn Foundation. Our services are limited to Gurugram only. Contact us for more details.
#Together we can fight Corona!
#Corona Haarega India jitega
#StayHomeStaySafe
#Medicine home delivery in Gurugram
Read more: Make Sure You Have Enough Medication: Same-day delivery medicine Gurgaon
Important Contact details:
Now you can Whats App on MYGOV CORONA HELPDESK +91-9013151515 for any queries related to Novel Coronavirus, or COVID-19. Your queries will be resolved in real-time with automated responses.
Helpline Number Toll-free: 1075
+91-11-23978046
Helpline Email ID: ncov2019[at]gov[dot]in OR
ncov2019[at]Gmail[dot]com
Website:
Check when you should get tested ?
Quarantine if advised
Please maintain social distance to help yourself and your family stay safe.
Find below the List of districts reporting COVID-19 cases ?
Isolation of persons traveling from affected countries or places for at least 14 days
Please watch the videos by Director, AIIMS – Delhi to learn and clear your doubts on Coronavirus ?
Coronavirus infection can be prevented through the following means ?
? Clean hand with soap and water or alcohol-based hand rub
? Cover nose and mouth when coughing & sneezing with a tissue or flexed elbow
? Avoid close contact & maintain 1-meter distance with anyone who is coughing or sneezing
For further details, contact Canwinn Foundation!
Call: +919654000098
Whatsapp: +919990597541
Email: canwinn07@gmail.com
To stay updated about corona news, follow Canwinn Foundation on Twitter, Facebook, Instagram, and YouTube!