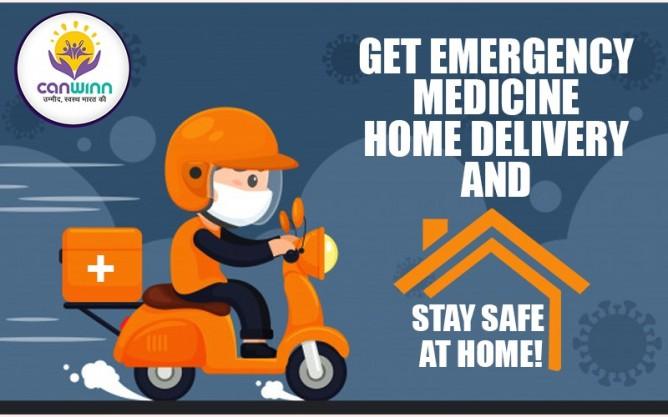 No matter if we are locked inside our houses, we might require a few things in any situation. The availabilities of such things let us have them even in critical situations.
One of them is emergency medicine home delivery. The service has been started to fulfill the necessities of acutely ill patients of all ages suffering from injuries or acute illnesses. However, the individuals are not encountering accidents during locked down, the other emergencies could arise.
How emergency medicine home delivery works
First, all you have to do is, search the trustworthy and genuine medicine suppliers in your city. If you are living in Gurugram, contact Canwinn Foundation: They have been providing online medicine facilities to help needy people.
Second, contact them to inquire about if they are posing delivery charges or if it is free, the medicine price, delivery timing, discount, and other details. Or you can visit websites for further information.
Third, if you have found your organization, give them what they require. The details like your address, prescription, contact number, etc.
Kindly, provide accurate information to prevent any tension while delivery.
Fourth, let them know about your emergency so they can set the priority and timing, accordingly.
With proper safety and protection, a responsible person will deliver your order soon.
Principles of Emergency Medicine
Now, we are discussing the principles of emergency medicine. This might include versatile skills in the diagnostics of emergency patients on-call, treatment of disease, and other skills.
The lockdown bounded to a new kind of flexibility to the treatments. Emergency delivery of medicines must be specialized to not mess up things during the process.
Canwinn's medicine delivery services in Gurugram
The new emergency services to facilitate medicine flow, reduce overlapping work in general medicine, and specialized online medical care. The foundation has been providing medicines at a 15% discount. This simplifying way of fulfilling medication needs and ensuring faster and reliable health services has been possible with the associated partners.
How long will it take to find medicine for COVID-19?
Although scientists and doctors have been researching about the coronavirus disease's medicine on the first priority, it will still take at least one and half year to find medicine for COVID–19. Till then, just follow the basic advisory released by the authorities to protect ourselves. It can be possible that they will find medicines sooner but the estimated time is not near the past.
During this outbreak, Canwinn Foundation is providing medicines with a 15% discount at your doorstep in Gurugram, Haryana.
Use this service during the pandemic and don't go outside your home. Follow Lockdown 2.0 with honesty.
Read more: Coronavirus pandemic: Plasma Therapy and all about it
You can now get the free Ambulance Services from Canwinn Foundation. Our services are limited to Gurugram only. Contact us for more details.
#Together we can fight Corona!
#Corona Haarega India jitega
#StayHomeStaySafe
#Medicine home delivery in Gurugram
Important Contact details:
Now you can Whats App on MYGOV CORONA HELPDESK +91-9013151515 for any queries related to Novel Coronavirus, or COVID-19. Your queries will be resolved in real-time with automated responses.
Helpline Number Toll-free: 1075
+91-11-23978046
Helpline Email ID: ncov2019[at]gov[dot]in OR
ncov2019[at]Gmail[dot]com
Website:
Check when you should get tested ?
Quarantine if advised
Please maintain social distance to help yourself and your family stay safe.
Find below the List of districts reporting COVID-19 cases ?
Isolation of persons traveling from affected countries or places for at least 14 days
Please watch the videos by Director, AIIMS – Delhi to learn and clear your doubts on Coronavirus ?
Coronavirus infection can be prevented through the following means ?
? Clean hand with soap and water or alcohol-based hand rub
? Cover nose and mouth when coughing & sneezing with a tissue or flexed elbow
? Avoid close contact & maintain 1-meter distance with anyone who is coughing or sneezing
For further details, contact Canwinn Foundation!
Call: +919654000098
Whatsapp: +919990597541
Email: canwinn07@gmail.com
To stay updated about corona news, follow Canwinn Foundation on Twitter, Facebook, Instagram, and YouTube!