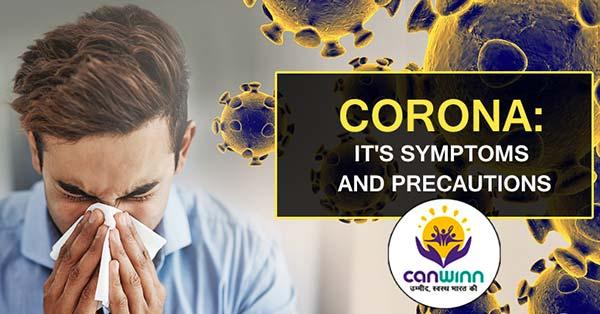 Currently, there is just one word running in our minds, that is CORONA. This deadly disease has shaken the world in many unexpected ways. By keeping in mind your health and safety, Canwinn Foundation is sharing about Coronavirus and its symptoms.
What Is Coronavirus?
Coronaviruses are a big family of viruses that are responsible to cause illness. This sickness includes common cold to more severe diseases like Middle East Respiratory Syndrome (MERS-CoV) and Severe Acute Respiratory Syndrome (SARS-CoV).
Now, we are suffering from the outbreak of COVID-19.
So, what it is?
A novel coronavirus (nCoV) is the latest strain. This has not been earlier identified in humans ever.
Moreover, Coronaviruses are zoonotic. Therefore, they are transmitted between animals and people.
As we all know, The coronavirus outbreak has been labeled a pandemic by the WHO. The speedy spread of the virus has sparked alarm worldwide. The situation is getting worse and worse. Many states have been locked down to prevent the further spread of this deadly disease. The government is taking every possible step to protect us.
Coronavirus symptoms
There are multiple symptoms have been shown by the infection. Among them, the most common symptoms of COVID-19 are fever, tiredness, and dry cough. Few patients may have aches and pains, nasal congestion, runny nose, sore throat or diarrhea.
Usually, these symptoms are mild and begin gradually, as we call it a first stage. However, some people become infected but don't reveal any symptoms and don't feel unwell.
Without needing special treatment, about 80% recover from the disease. And around 1 out of every 6 people who get COVID-19 becomes seriously ill and develops difficulty breathing.
In addition, those people who are old and those who have medical problems like high blood pressure, heart problems or diabetes, are more likely to exhibit serious illness. Because these people have low immunity, they are hard to recover and extremely vulnerable to get infected.
Therefore, if you are suffering from fever, cough, and difficulty breathing you should seek medical attention.
Protection measures for everyone
First thing is that you should stay aware of the latest information on the COVID-19 outbreak.
You can lessen your possibilities of being infected or spreading COVID-19 by taking some simple precautions:
Wash your hands with an alcohol-based hand rub on a regular basis. Also, you can wash them with soap and water.
Maintain at least 1 meter (3 feet) distance between yourself and anyone who is coughing or sneezing.
Avoid touching eyes, nose and mouth because hands touch many surfaces during the day and are liable to pick up viruses.
Make sure you and your family around you should follow good respiratory hygiene. This means covering your mouth and nose with your bent elbow or tissue when you cough or sneeze. Then dispose of the used tissue immediately.
Stay home if you feel unwell. If you have a fever, cough and difficulty breathing, seek medical attention and call in advance. Follow the directions of your local health authority.
Stay up to date on the latest COVID-19 hotspots. If possible, avoid traveling to places – especially if you are an older person or have diabetes, heart or lung disease.
In conclusion, we should understand the criticality of time and co-operate with each other. Together, we can fight Corona. Our nation needs unity and we all need each other. Don't panic, because you can protect yourself with simple precautions.
Stay Healthy! Stay Safe!
Now you can Whats app on MYGOV CORONA HELPDESK +91-9013151515 for any queries related to Novel Coronavirus, or COVID-19. Your queries will be resolved in real-time with automated responses. Or else, you can simply visit this link http://wa.me/919013151515?t
Once you save the number and drop a basic message in the inbox, like "Hi". Here you can get all the relevant information about Corona.
Helpline Number Toll free: 1075
+91-11-23978046
Helpline Email ID : ncov2019[at]gov[dot]in OR
ncov2019[at]gmail[dot]com
Website :
For further details, contact Canwinn Foundation!
Call: +919654000098
Whatsapp : +919990597541
Email : canwinn07@gmail.com