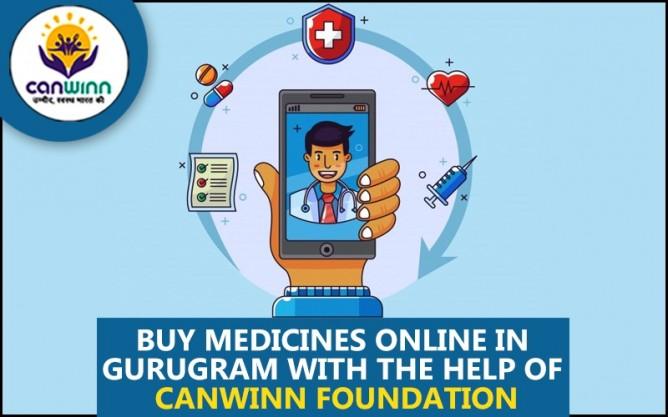 By seeing the current calamities, Canwinn Foundation advises the public to Buy medicines online in Gurugram. If you are suffering from disease and you have a prescription for a long time, we understand that you might be running out of your medicine supply during the lockdown. Therefore, do not panic, just contact the foundation and get home delivery of your prescribed medicines with up to 15% discount.
As suggested by the CDC as well, we are rephrasing that you should have a 7- to 10-day supply at home. Also, ask your pharmacist on call if you can get a 30-day emergency refill.
The ongoing situation of our nation is very vulnerable, in that condition, People should not be caught short of having enough heart medications, diabetic medications, or any potentially life-saving medication. Some medicines are required on a routine, some on a daily or weekly or monthly basis.
Where can I get a list of pharmacies with discounts in Gurgaon?
We all understand the criticality of the current time. During lockdown 2.0 we are not allowed to go outside home because it might be very risky to get infected From Novel coronavirus. To help survive all the difficulties of the present, Canwinn Foundation has been proffering help to the citizens. With other services, it is giving online medicine services with discounts in Gurgaon. When you will look for the list of pharmacies with discounts in Gurgaon, you will come to know that not all medicine availabilities are giving free home delivery and handsome discounts. So, we suggest, you consider looking for those who are helping needy people and supplying genuine medicines at a good discount.
If I decide to follow lockdown strictly, How do I get medication at my house?
It is true that whether you come down with coronavirus, you are quarantined, or you are self-isolating, you might not be able to venture out to get your prescriptions. However, you are able to get your medication delivered directly to you at your home.
Approach big chain drug stores: Take advantage of the Canwinn Foundation that currently offering free home delivery of prescription drugs.
Read more: COVID-19: What's the Difference Between Pandemic, Epidemic, and Outbreak?

The organization is offering great discounts and free shipping by keeping in mind the demand of the current situation.
Canwinn foundation and its team are trying their best to help you get through this typical period. Don't lose your hopes!
We request you to follow the advisory released by the Ministry of Health Department with honesty and courtesy.
We are here to help you.
#Together we can fight Corona!
#Corona Haarega India jitega
#StayHomeStaySafe
#Medicine home delivery in Gurugram
Important Contact details:
Now you can Whats App on MYGOV CORONA HELPDESK +91-9013151515 for any queries related to Novel Coronavirus, or COVID-19. Your queries will be resolved in real-time with automated responses.
Helpline Number Toll-free: 1075
+91-11-23978046
Helpline Email ID: ncov2019[at]gov[dot]in OR
ncov2019[at]Gmail[dot]com
Website:
Check when you should get tested ?
Quarantine if advised
Please maintain social distance to help yourself and your family stay safe.
Find below the List of districts reporting COVID-19 cases ?
Isolation of persons traveling from affected countries or places for at least 14 days
Please watch the videos by Director, AIIMS – Delhi to learn and clear your doubts on Coronavirus ?
Coronavirus infection can be prevented through the following means ?
? Clean hand with soap and water or alcohol-based hand rub
? Cover nose and mouth when coughing & sneezing with a tissue or flexed elbow
? Avoid close contact & maintain 1-meter distance with anyone who is coughing or sneezing
For further details, contact Canwinn Foundation!
Call: +919654000098
Whatsapp: +919990597541
Email: canwinn07@gmail.com
To stay updated about corona news, follow Canwinn Foundation on Twitter, Facebook, Instagram, and YouTube!