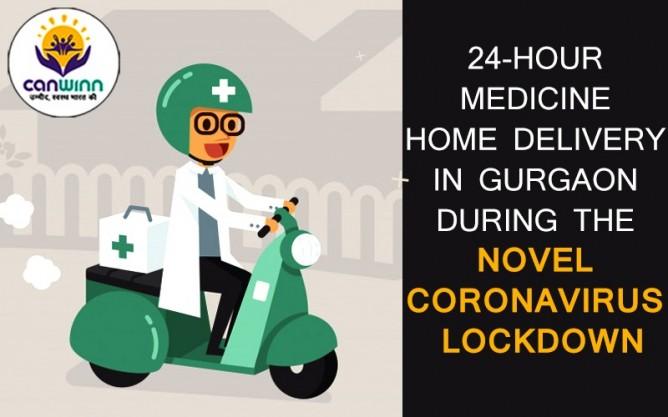 In the midst of Corona, Canwinn Foundation has been providing services that directly benefit the ordinary man. During this pandemic, Canwinn and its team are giving 24-hour medicine home delivery in Gurgaon during the Novel Coronavirus Lockdown. This facility is helping people a lot. We support the lockdown-2 as well and we will follow this just like the lockdown-1. We do not want anyone to go outside their house, therefore, we are providing medicine home delivery in Gurugram with a 15% discount. The medicine delivery is absolutely free. We are doing all this in order to keep you safe and healthy.
Below are the things that you can get from the Canwinn Foundation:
1. Get a medicine with up to 15% discount at your home. Besides, the delivery arrives on the same day (Or the foundation will let you know about the time)
2. You can take any test in authentic labs (tied-up labs) at a good discount
3. You can get help in the selection of good doctors of any disease
4. You can get help in admission to Big Hospitals like Artemis, Fortis, Pratiksha, Narayana, Medanta, etc. And also, Canwinn can help you get a discount of 15-25%
5. Canwinn help you arrange the Blood
6. You can take the second opinion on the treatment of any disease
7. Ambulance arrangement at affordable prices
8. Good treatment in the Hospitals of your choice
9. Health insurance selection with 15-25% discount
If you have any doubts or you want to know more, please immediately contact Canwinn Foundation. Scroll down to get the helpline numbers.

Read more: Lockdown Availabilities Discounted Authentic Medicine Doorstep Delivery In Gurugram
Will people like the home delivery service of medicine in India?
As the Prime Minister of India, Mr. Narendra Modi announced a lockdown due to the outbreak of the Corona Virus, all the people must stay back at home. Therefore, it is obvious that getting food and water is a necessity for everyone. Also, some of us require medicines as well. Sadly, rush and panic buying left many Indians without access to essential commodities, including medicines.
To solve this issue, many organizations providing Online medicine delivery platforms with the hope for smooth operations after government notification amid lockdown.
In conclusion, if people get medicine delivered at their homes, why would they not like it? Of course, they are happy with the home delivery service of medicine in India.
Can I get medicine delivered to my home?
Yes, many Government and non-government organizations are providing various facilities including distribution of food packets, masks, and sanitizers. These are the necessity of every individual during this lockdown. In order to keep everyone inside the home, various NGOs are providing home delivery of medicines as well. So, you can get numbers online and contact them to get the services.
#Together we can fight Corona!
#Corona Haarega India jitega
#StayHomeStaySafe
#Medicine home delivery in Gurugram
Important Contact details:
Now you can Whats App on MYGOV CORONA HELPDESK +91-9013151515 for any queries related to Novel Coronavirus, or COVID-19. Your queries will be resolved in real-time with automated responses.
Helpline Number Toll-free: 1075
+91-11-23978046
Helpline Email ID: ncov2019[at]gov[dot]in OR
ncov2019[at]Gmail[dot]com
Website:
Check when you should get tested ?
Quarantine if advised
Please maintain social distance to help yourself and your family stay safe.
Find below the List of districts reporting COVID-19 cases ?
Isolation of persons traveling from affected countries or places for at least 14 days
Please watch the videos by Director, AIIMS – Delhi to learn and clear your doubts on Coronavirus ?
Coronavirus infection can be prevented through the following means ?
? Clean hand with soap and water or alcohol-based hand rub
? Cover nose and mouth when coughing & sneezing with a tissue or flexed elbow
? Avoid close contact & maintain 1-meter distance with anyone who is coughing or sneezing
For further details, contact Canwinn Foundation!
Call: +919654000098
Whatsapp: +919990597541
Email: canwinn07@gmail.com
Join@canwinn.org
To stay updated about corona news, follow us on Twitter, Facebook, Instagram, and Youtube! We are active every day to fill you about Novel Coronavirus.